Do you have what it takes to train as a Lifeguard?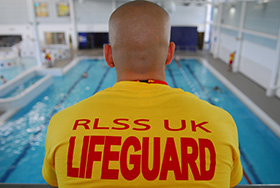 Lifeguarding is a great way to earn money during your 6th form & University years. Not only will you benefit from the National Pool Lifeguard Qualification it will also provide you with key life skills including First Aid, CPR and rescue techniques.
Training as a lifeguard also looks great on your CV or personal statement. It demonstrates you are a team player and can work in a position of responsibility.
Benefits of becoming a lifeguard
We think there are loads of great reasons why you'd want to become a lifeguard and we guess you must think it's a pretty good idea too, which is why you are here...
Reasons why we think you'd love it...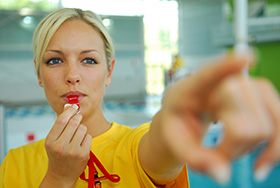 First and foremost you are providing an amazing public service. You will without a doubt make people feel confident, happier and safer just by being on the poolside and you could potentially save a life.
Being a lifeguard offers a fantastic foundation to a career in the leisure industry. Many senior managers began their rise to leisure stardom by lifeguarding at their local pools.
The opportunity to get fit. Not only will you have to have a basic level of fitness to become a lifeguard but you will be encouraged to stay fit and get fitter. Many pools will give their lifeguards discounted or even free memberships.
You get to work with a team of like minded people, so there's plenty of opportunity to increase your social circle!
The hours are flexible and perfect for those of you who need to fit studying into your busy days
If you're a competitive type there is plenty of opportunity to show off your lifeguarding talents in annual events such as the National Pool Lifeguard Championships (team event) and the Lifeguard Triathlon.
If you find you really enjoy lifeguarding you can take it up as a competitive sport and compete regularly for your local club.
Lastly but still very importantly, you will gain a life skill that will come in handy for the rest of your life that could lead to enhanced career progression and a stepping stone to the National Pool Management Qualification (NPMQ).