ROOKIE LIFEGUARD AGES 8+
Want to be a Rookie Lifeguard?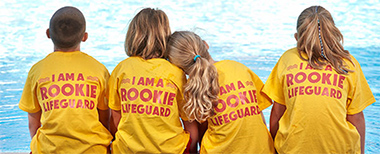 The Rookie Lifeguard programme is the junior award scheme of the RLSS UK. For most children Rookie Lifeguard will be the first opportunity to explore water safety and alternative safe aquatic play.
The Rookie skills make Rookies aware of how to take better care of themselves, their family and friends, and give them the information they need to promote water safety in their day to day activities. The awards contain survival, rescue and sports skills as well as Life Support and water safety elements.
Rookie Lifeguard is primarily aimed at children aged 8 - 12 years although most of the skills can be taught to people of all ages. Starting with Stage 1 of the Bronze Award and progressing through to Stage 3 of the Gold Award, Rookie Lifeguard begins at an ability level suitable for swimmers who have just learned to swim and progresses to the level of performing Lifesaving tows.
Also part of the Rookie Lifeguard Programme are the Water Safety, Life Support and Bolt-on Awards. These Bolt-on Awards offer varied extra skills, wet and dry, that Rookies can achieve to push themselves further and provide encouragement between the core awards.
Rookie Lifeguard is part of the National Plan for Teaching Swimming (NPTS) developed by the Amateur Swimming Association although it can also be run as a stand-alone course by Lifesaving Clubs, Leisure Centres, Swim schools and as part of School swimming lessons. The Rookie Lifeguard Water Safety Award fulfils all of the Key Stage 2 water safety elements of the National Curriculum.