Excel Swim School provides expert tuition in a safe and friendly environment.
Lessons start from ages 4 years upwards and are taught by experienced Level 2 teachers who have chosen to specialize in working with the youngest of children. We continue working with your child throughout their school years to achieve an excellent standard of swimming and stroke ability.
We continually assess our swimmers and ensure that each child develops at their own pace. Between our three fabulous venues we can accommodate all standards of swimming tuition at the same time allowing parents with children of different ages and swimming standards to run concurrently.
You can join at any time during a term and will pay a price pro-rated fee for the number of lessons remaining.
Our aim is to produce safe confident swimmers with a high standard of stroke technique and to give them the skills required to enjoy in any water based activity. The skills that your child learns with us will stay with them for life and in some instances may even save their lives or the lives of others.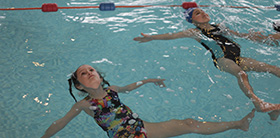 By working within A.S.A. and STA structured guidelines our aim is to maximise your child's potential whilst not losing sight of the fact that all children are individuals and progress at their own rate, teaching the basic principles of swimming from an early age ensures that these basic principles can then be exploited as the child grows older helping them to achieve higher and higher results. Children aim towards achieving an A.S.A award at the end of each term.