Water Babies®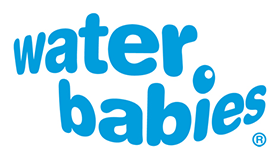 Water Babies® run fun, innovative baby swimming classes across the UK. Our fully qualified instructors are world class and could have trained as private pilots - three times over - in the time it takes them to qualify with us. With a multi-award winning programme which teaches vital water confidence and safety skills from birth, our overall aim is to teach you to teach your baby to swim. So we'll always explain why we're doing everything, as well as carefully demonstrate exactly what to do.
Through carefully structured training, babies can be taught life saving skills such as turning onto their backs or, following a sudden submersion, swimming to the nearest solid object. They grow familiar with what it feels like to fall into water, so that should they ever accidentally fall in they are far less likely to panic and drown. And our results speak for themselves. In the last two years alone eight of our tiny clients have saved their own lives as a result of the skills they learnt at Water Babies - and three of them were just two years old at the time.
We have classes all over Herts, best way is to call us so we can give you the beginner class info, as not all classes are beginners.
To Contact
Email floating@waterbabies.co.uk or call 01582 460600
For More Information, visit the Water Babies' Web Site